Unfurl a giant pink ribbon on the field in front of thousands of fans during the Sunday, October 8, Atlanta Falcons game at Mercedes-Benz Stadium to raise awareness for breast cancer screenings.
Crucial Catch Event: October 8, 2023
Atlanta Falcons vs Houston Texans | Mercedes-Benz Stadium

The Winship Cancer Institute of Emory University and the Atlanta Falcons invite cancer survivors to participate in the NFL's Crucial Catch event on October 8, 2023, to remind women, and the men in their lives, how important it is to have regular mammograms and to take control of their breast health.
Just before the 1:00 pm kickoff at the Atlanta Falcons versus Houston Texans football game, you and your guest will participate in a ribbon ceremony. You will walk onto the field and help unfurl a giant pink ribbon, which will be seen live on the Mercedes-Benz video board.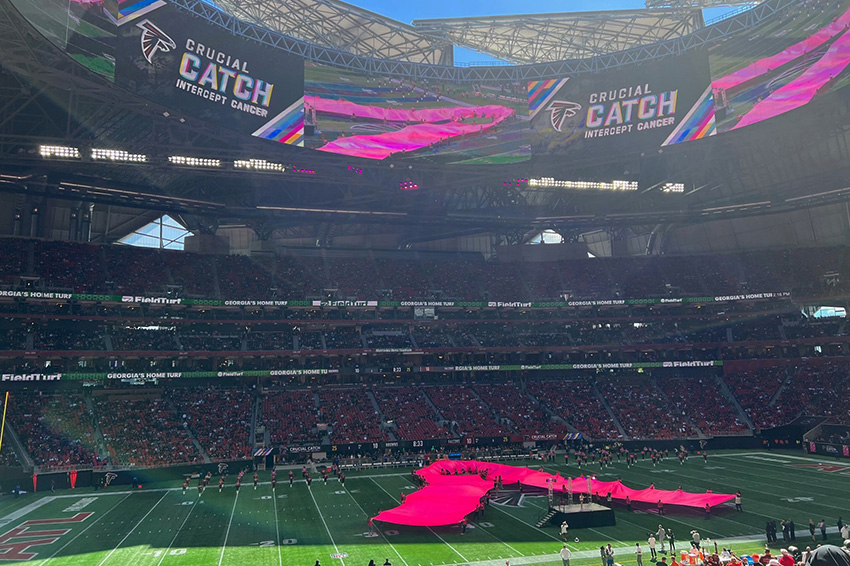 If you would like to participate in this free event, please block most of the day on your calendar, as there will be rehearsals and other activities scheduled before the kickoff at 1:00 pm.