---
---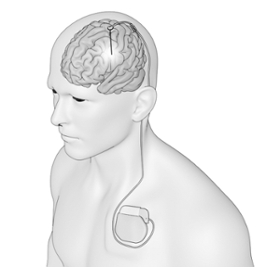 DBS is best described as a pacemaker for the brain. It is a surgical therapy that involves permanently implanting thin stimulation electrodes (wires) into deep regions of the brain that control motor function. An adjustable pulse generator implanted in the chest sends electrical pulses through the electrodes, which regularizes abnormal brain activity and improves motor symptoms.
DBS consists of electrodes (wires) implanted in brain motor centers & a pulse generator (pacemaker) in the chest.


Movement Disorders Treatments Pioneers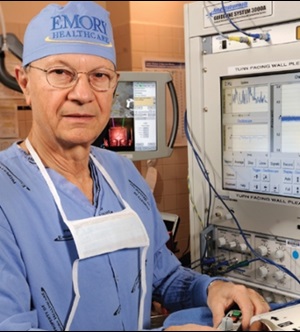 The Deep Brain Stimulation Program was established in the early 1990s by Dr. Mahlon DeLong.

Together with neurologist Dr. Jerry Vitek and neurosurgeon Dr. Roy Bakay, Dr. DeLong and his research team made groundbreaking discoveries in the functional organization of motor circuits. This contributed to developing surgical approaches for treating movement disorders and identified a novel target for treating Parkinson's disease. Dr. Mahlon DeLong The DBS clinical team comprises neurologists, nurse practitioners, nurses, neurosurgeons, a neurophysiologist, neuropsychologists, psychiatry nurse practitioners, and a coordinator.
Dr. Mahlon DeLong

---
---