If you are an employee who is wanting to go back to school, please check the nursing education webpage under the back to school tab with the link below. To view the page, please be sure to log into the VDT.
Emory Healthcare uses ACEMAPP to streamline the clinical education process. You will be completing a profile and a number of requirements which are necessary for your program. If you have any questions regarding your ACEMAPP account, please contact support@acemapp.org or 844-223-4292.
Affiliation Agreements
Prior to any clinical rotations or placements, an affiliation agreement must be in place between Emory Healthcare and the student's school. A list of schools with a current affiliation can be found on the Nursing Professional Development webpage under the Back to School tab. This information is updated regularly. If a student is attending a school that does not have a current affiliation agreement, contact Nursing Professional Development to request. Please note this process can take several months to complete and is not a guarantee.
Requirements
All nursing student clinical rotations and placements are coordinated through the nursing education department. This standard ensures that current affiliation agreements are in place and required student credentialing is completed. All clinical rotation requests and student credentialing are completed in Acemapp, our online student credentialing program.
The credentialing process includes verification of:
Insurance (professional liability and personal health)
Requests for ID badges
Logon IDs
Parking (if applicable)
Completion of background check
Drug screening

Emory students and employees are exempt from the background check and drug screen
Undergraduate Nursing Students
Requests for faculty-led groups and preceptors for senior students are made by Nursing Education Coordinator, Susan Jones, to the UDs (or designee).
Nurse Practitioner Students
All RNs seeking a precepted placement at Emory Healthcare must submit a request to the OfficeofAPP@emoryhealthcare.org. To do so, please complete the following Microsoft Form below.
Emory Healthcare - Student Placement Request
Given our historical tiered approach, as well as the limited number of preceptors, we cannot honor a placement outside of this process. We do our best to accommodate as many students as possible but cannot guarantee placement.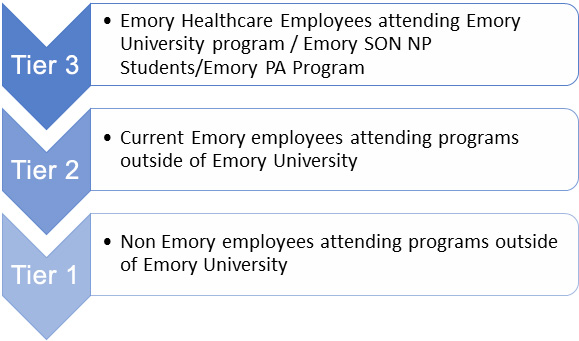 After clinical placement is approved, the school can place the request in Acemapp. Student credentialing is completed in
Acemapp
.
MSN and DNP Students
MSN and DNP students are also credentialed in Acemapp by nursing professional development. Contacts for project approval are listed below.
Contact Persons:
Placement and Credentialing
Susan Jones
susan.jones@emoryhealthcare.org
Nurse Practitioners
OfficeofAPP@emoryhealthcare.org
Affiliation Agreements
Beth Botheroyd
elizabeth.botheroyd@emoryhealthcare.org
DNP Projects
Wendy Hathaway
wendy.hathaway@emoryhealthcare.org
Emory Healthcare Employee LPN-BSN Program through Georgia State University
We are pleased to announce Emory's partnership with Georgia State University which allows LPN's to return to school to receive their BSN degree. For those who could not participate in the Town Hall sessions, we have the information below.
If you would like to view the recording of the seminar, copy the link below and paste it into a browser such as Internet Explorer or Google Chrome outside of the EHC Virtual Desktop. It will not play inside of the virtual desktop. You will need to access the presentation on a computer with speakers. The presentation starts at approximately minute 15.
LINK - https://gsumeetings.webex.com/gsumeetings/ldr.php?RCID=b8a87b1550694387a30a7711622d9f67
To speak directly to an enrollment advisor at Georgia State, please contact Renee Creel at rcreel@gsu.edu. Her telephone number is 678-891-3863.