By visiting, you've taken the first step in your journey to successful weight loss. While you're here, find out about our bariatric surgeons and other useful information to help you make one of the most important decisions of your life.
Our Comprehensive Weight Loss Center, with fellowship-trained and board-certified bariatric surgeons, offers surgery and lifestyle modification for individuals 100 pounds or more overweight. We also offer nonsurgical solutions such as nutrition counseling to aid in disease management, prevention, and overall health improvement. Our Comprehensive Weight Loss Center bariatric surgeons specialize in Roux-en-Y Gastric Bypass, Vertical Sleeve Gastrectomy, Loop DS, and Lap-Band procedures. The Comprehensive Weight Loss Center, located on Emory Decatur Hospital's campus, offers free seminars for those seeking bariatric surgery.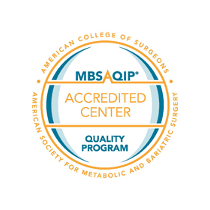 The Comprehensive Weight Loss Center program is a proven care plan based on the National Institutes of Health guidelines. It has been designated an Accredited Center by the American Society for Metabolic and Bariatric Surgery. This designation is only given to bariatric surgery centers which demonstrate high quality, low complications and outstanding outcomes for large volumes of patients.
A center of excellence designation recognizes a practice for patient safety and advocacy, which provides continuous improvement of bariatric surgery.
Emory Decatur Hospital's Comprehensive Weight Loss Center in Georgia is also listed among the Aetna Institutes of Quality for Bariatric Surgery. In addition, the Center has earned a Blue Distinction Plus Center for Bariatric Surgery designation from Blue Cross/Blue Shield, and a CIGNA Certified Hospital for Bariatric Surgery.
The Emory Decatur Hospital Comprehensive Weight Loss Center accepts most insurance plans.